What are Triggers in Oracle? 
Oracle Triggers are similar to PL/SQL Stored procedures that can be stored in the database and are explicitly fired whenever a table or a view is changed by a user action or a database system actions occur.
A trigger can be fired when one of the following happens on a table:
DML (Data Manipulation Language) statements like  'Insert", "Update" or "Delete" are run against the table.
DDL (Data Definition Language) statements like "Create", "Alter" or "Drop" are issued either by a particular schema / user in the database.
Note: Using Triggers is effective to modify objects in the database, but they have to be used carefully. Excessive use of triggers may cause a SQL statement inside that trigger to fire other triggers – calling an effect called Cascading Triggers.
Parts of a Trigger: 
Triggering statement: A triggering statement is the SQL Statement or database event that causes a trigger to fire.
Triggering Restriction: A trigger restriction results in a Boolean expression i.e. either a true or a false that specifies whether the trigger should fire or not. A trigger fires if the Triggering restriction results in "True". A "False" or an "Unknown" result doesn't fire a trigger.
Trigger Action: A trigger action is the pl/sql statement (or anonymous block of code) that runs when the Triggering restriction results as True.
Example:
The following code is an example of a trigger that insert an Audit record into Table2 whenever an Insert event occurs into Table1.
Step 1: Create Table1 and Table2 for this test case.
CREATE TABLE table1
(
    col1    NUMBER
);

CREATE TABLE table2
(
    col1    DATE,
    col2    VARCHAR2 (2000)
);
Step 2: Create Trigger script.
CREATE TRIGGER tab1_trig
    AFTER INSERT
    ON table1
BEGIN
    INSERT INTO table2
         VALUES (SYSDATE, 'Insert into table1');
EXCEPTION WHEN OTHERS 
THEN 
   DBMS_OUTPUT.PUT_LINE ('Error During Trigger creation: )'||SQLERRM);
END;
Step 3: Generate the Triggering event.
INSERT INTO table1
     VALUES (1);

Step 4: Check the data in the Table 2.
SELECT * FROM table2;
Step 5: Result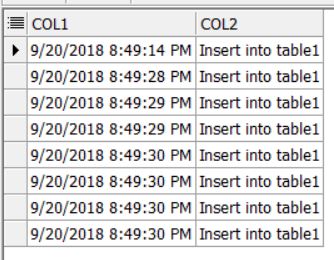 Explanation: 
In the example above:
The Triggering statement is: AFTER INSERT ON table1.
The trigger fires immediately after an insert operation occurs on the Table1.
The Triggering Action is to Insert values in the Table2 when an Insert happens on Table1.
Different Types of Triggers
Row Triggers:
Statement Triggers:
BEFORE and AFTER Triggers:
INSTEAD OF Triggers: